KMS Quattro
... the cable management system of the professional documentation, planning and management of complicated communication- and data nets!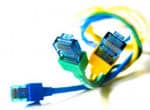 KMS Quattro is a management communication system which supports the permanent documentation and administration of communication networks. The relevant communication infrastructure control processes can be automated with KMS Quattro and completely integrated in the structuring of operations of the appropriate technical offices. KMS Quattro is a dialogue-orientated program system with graphic user interface for managing any cabling in computer processing and in the fields of signalling and telecommunication.
Product signs and specific features:
KMS Quattro knows the complete network
KMS Quattro indicates the right path for every cable
KMS Quattro stays on the trail of every connection
KMS Quattro knows all distributors
KMS Quattro knows what is connected to each cable
KMS Quattro keeps written records
KMS Quattro knows the thermal power in 19" distributors
KMS Quattro knows the electric power in 19" distributors
and a lot more...
On the following sides you find all interesting facts about us, our services and products.
We hope that you enjoy browsing our site and we look This email address is being protected from spambots. You need JavaScript enabled to view it. to hearing from you soon.
They reach us also under:
RDM Systeme AG
Uetlibergstrasse 196a
CH-8045 Zürich
Phone: +41 (0)44 456 40 80
Fax:       +41 (0)44 456 40 85

E-Mail This email address is being protected from spambots. You need JavaScript enabled to view it.